Home

Equipment for the disabled
| | | |
| --- | --- | --- |
| Equipement for disabled people | | |
lundi, 22 août 2011
We wanted to accommodate people with disabilities. This article summarizes the adjustments made to improve their comfort.
We got empowerment "Tourism and Handicap" in may 2009. After the visit of their experts, we had improved the signage for the various types of disabilities, see our article on this subject in our blog.
The doors of entry, like all the doors of the house, are wide enough for passage of a wheelchair (0.90 m). They are at same level as the paved courtyard (with aluminum threshold instead of step).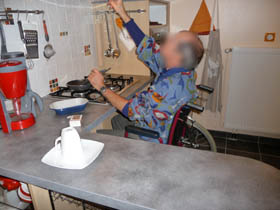 The kitchen was also designed to facilitate the approach of wheelchairs.
In the dining room, the table was built in the same intention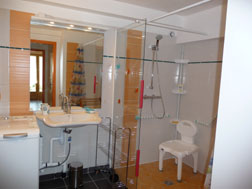 In the bathroom, sink, with its ergonomic shape and its unkeyed siphon allows people with limited mobility to get to the edge and have easy access to valves.
The marking of the glass shower has been designed for people with visual impairments. Italian shower is equipped with a shower seat.
A coat rack is set to 1m 30.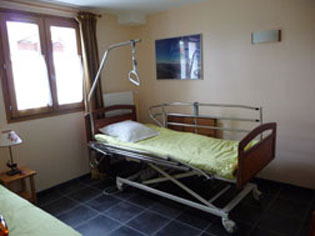 Rooms are wide enough to manage clinic beds (not provided !) as we've chacked wtih the stay of a team from a specialized institution in each room one clinic bed and one ordinary bed for the staff.
---
Toilets See the colored seat for the visual contrast.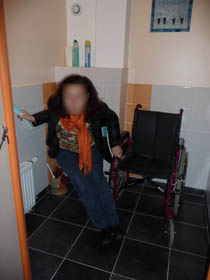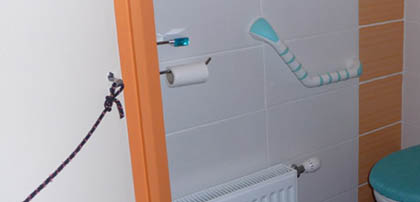 Toilets are wide enough to get in with an electric wheelchair and allow transfer from the right side.
A small cord makes it easy to close the door once sat down.
---
Few placemarks for bad-seeing people :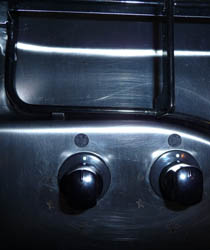 ---
You can see here photos of a group of multiply handicapped person first stay : they now come every year and are fully satisfied !


And here Nadège's statement : she came alone by train with her wheelchairs and stayed at "les Soldanelles" during three weeks.

On the spur of some of our visitors, two new ideas :
a very strong removable handle that you can place wherever you need. Just fix it with the two blue levers :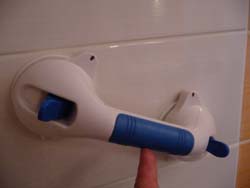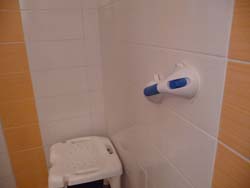 blocks to heighten the big bed of about 6" :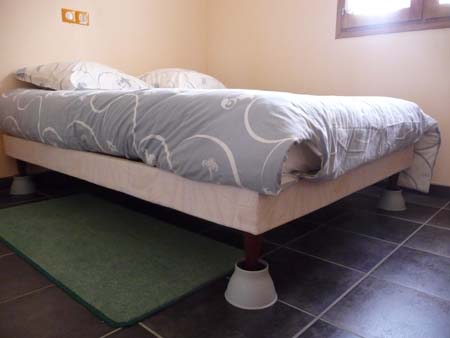 Last Updated ( dimanche, 28 décembre 2014 )