Localization (GPS)




Longitude : 06° 00' 22" E

Latitude : 45° 34' 00" N
Home

Way to Curienne
| | | |
| --- | --- | --- |
| Way to Curienne | | |
mercredi, 27 août 2008
Page 1 of 2
Way from the North (Annecy, Lyon, Chambéry)
When coming from North, take the highway indicated 'Chambéry-centre, Grenoble'
Drive through 'le tunnel des Monts' and exit at sortie n°18 to Albertville on the 'Massif des Bauges' road
Go along the river during 1.5km (<1miles) ; at the crossroads called Carrefour de la Trousse : cross over the main road
Take left (30m after the lights) to Curienne
Go along the river again and follow the main road to Leysse. At the square with the chemist turn right then left to Curienne (6km / 3.7miles)
At Curienne , drive along the church and turn right : it's a small road called 'le chemin de Bellevarde' ; after 40m turn right. The road is called 'le chemin de la Cour'
Then turn left on the small track in a front of a wooden garage. 'Les Soldanelles' is at the end of the track.

Way from the South (Grenoble, Albertville)

When coming from South, exit at 'sortie n°21 Les Marches', turn right to Chambéry ; follow the road to St Jeoire Prieuré
At the second light (after the 'Formule 1' hotel) take the road to 'Chignin' ; follow the signs 'Curienne'
At Curienne, pass by the townhall and school and turn left just before the church on the road 'chemin de Bellevarde' ; turn right on the road called 'le chemin de la Cour'
Take the first track on the left, 'Les Soldanelles' is the house at the end of the track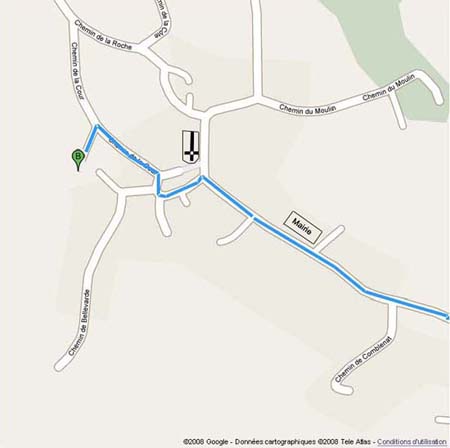 Last Updated ( mercredi, 13 juillet 2016 )